Wonders of Egypt
Wonders of Egypt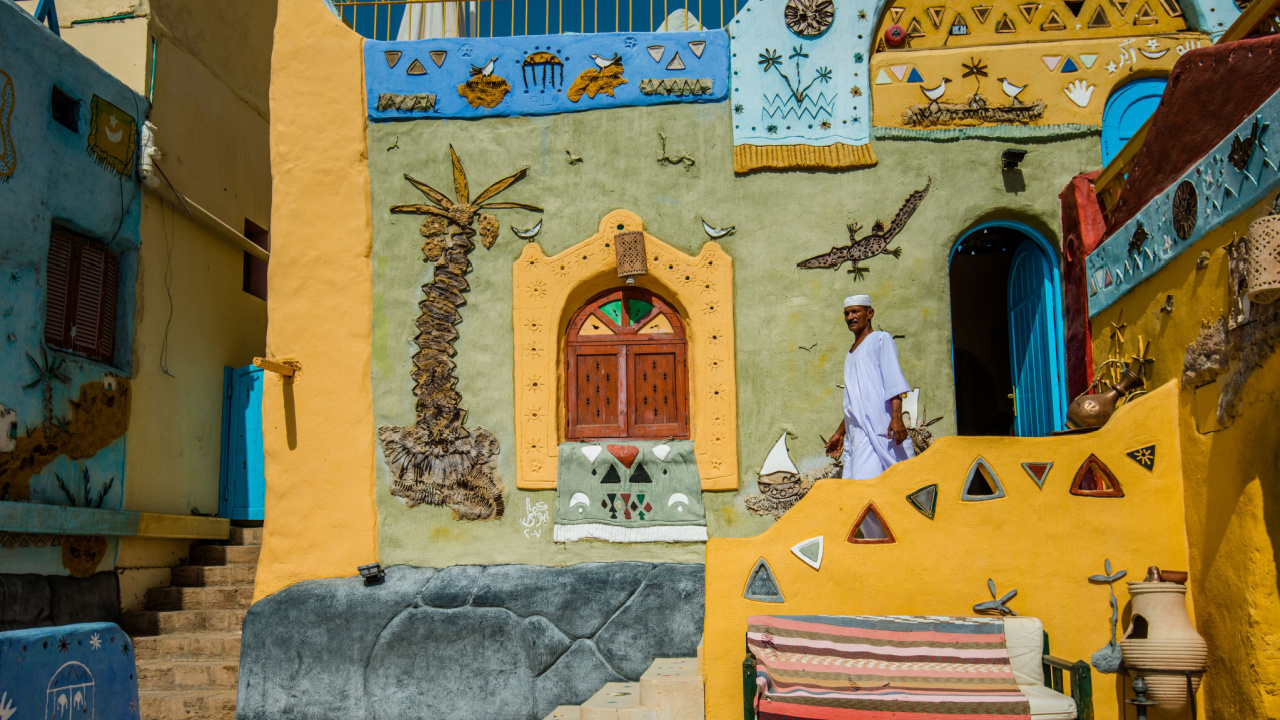 Wonders of Egypt
Wonders of Egypt
Wonders of Egypt
Highlights
Places to Visit
Cairo, Luxor, White Desert
Themes
Art & Culture, Adventure
Dates
Message Us Now
Cairo – Bahareya | Bus
Bahareya – Cairo | Bus
Cairo – Luxor | Semi Sleeper Train
Cairo Airport – Cairo Hotel | Private Transfer
Cairo Hotel – Cairo Airport | Private Transfer
Cairo City Tour With NMEC Museum and Khan-el-Khalili Market || Private Tour || With guide (Guide not provided for Khan-el-Khalili Market)
Cairo Pyramids Tour || Private Tour || With guide
White Desert Camping Tour || Shared Tour
Luxor Temple & Karnak Temple Tour || Private Tour || With guide
Luxor West Bank Tour || Private Tour || With guide
Hot Air Balloon || Shared
Egypt Tourist Visa
50000 USD Travel Cover For 8 Days
Meals - 4 Breakfast
Meals - 1 Lunch, 1 Dinner
GST
International Flights (Currently Per person Rs.30,000 per person is considered based on Multiple dates availabilty. Price beyond Rs.30,000 will be charged extra)
Accommodations :

Night 1 | Cairo | Nine Pyramid Hotel || Meals- Breakfast || Room Type:- Twin Room With Garden View (2 Large Twin Beds)


Night 2 | Overnight Camp In White Desert || Meals - Dinner & Breakfast

Night 3 | Cairo | Nine Pyramid Hotel || Meals - Breakfast || Room Type:-

Twin Room With Garden View (2 Large Twin Beds)

Night 4 | Overnight Semi-Sleeper Train
Night 5 | Luxor |

Susann

Hotel || Meals - Breakfast || Room Type:- Standard Room (2 Twin Beds)

Night 6 | Overnight Semi-Sleeper Train
Night 7 | Cairo | Nine Pyramid Hotel || Meals - Breakfast || Room Type:-

Twin Room With Garden View (2 Large Twin Beds)
Gratuity / Tips { Cumpulsory in Egypt } (5USD per person/per day)
Meals - Lunch & Dinner (Unless Explicitly Mentioned In Inclusions)
Monument/Museum entrance tickets in Egypt- (Approx. 100USD)
TCS (5 % Of Trip Amount - completely refunadable as part of ITR)
Anything Not Mentioned Explicitly In Inclusions
Day 1
Arrival in Cairo + Meet & Assist
* Arrival : Meet and Assist @Cairo Airport.
* Arrival Drop to your Accomodation in Cairo.
- Private Transfer
Night Stay : Nine Pyramid Hotel
---
Day 2
Cairo - Baheriya - White Desert - (SIC)
White desert is definitely one of the best offbeat element while in Egypt; below will be the flow of itinerary of White desert:
* Between 06:00/07:00 am Pick up time from your hotel in Giza or in Cairo, drive to Bahariya Oasis , which is located about 350 km east of Cairo This journey takes about 4 hours - A picturesque drive definately.
* Upon arrival have your Lunch.
* And then Board your Safari 4X4 Vehicle for tour to White Desert.
* Visit Black Desert;
* Crystal Mountain
* Do Sandboarding - at the Valley of Agabat.
* Immerse yourself in a hot water spring on the way.
* Finally reach White desert;
* Enjoy unique sunset of this white desert area.
* Overnight barbeque and Bedoin life experiance;
* Sleep overnight under starry sky with the chance to see Milky way "
Night Stay: Desert Camp
---
Day 3
White Desert - Baheriya - Cairo
Have early morning Breakfast;
* Click beautiful pics with unique formations of White desert*
* Witness amazing Sunrise
* Trace back the path to arrive Cairo by 4:00 PM depending on traffic.
After coming get transfer to the hotel.
Night Stay: Nine Pyramid Hotel
---
Day 4
Pyramids Day Tour || Train To Luxor
A day to visit the humongous sites of various Pyramids Complex in Egypt :
* Visit of Giza Pyramid Section with Sphinx
* Visit to Saqquara Pyramid Section
* Visit to Dashur Pyramid Section / Memphis Open Air Museum
Tour Duration 6.5 / 7 Hours ( Private tour with English Speaking Egyptologist Guide)
Your tour ends and you get transferred to Cairo Railway Station to board your 1st Class AC Semi-Sleeper Train to Aswan.
Overnight Semi-Sleeper Train
---
Day 5
Arrival in Luxor + East Bank Tour
Arrival in Luxor : Arrive in Luxor, and get transferred to your hotel.
East Bank Sites of Luxor :
Visit East bank sites on this private tour of yours :
* Karnak Temple ( Upto 1.5 hour visit time)
* Luxor Temple ( upto 1 hour visit time)
with in between travel time of upto half an hour. ( Private tour with English Speaking Egyptologist Guide)
Night Stay : Susanna Hotel
---
Day 6
Hot Air Balloon (Optional) - Luxor West Bank Tour - Train To Cairo
You will be doing your Hot Air Balloon ride today. You will be picked up from Cruise around 4:00/4:30 AM in the morning to reach Balloon Station @West bank area.
Visit West bank sites on this private tour :
* Valley of the kings ( upto 1.5 hour visit time)
* Templ of Hetepstut ( upto 1.5 hour visit time)
* Collosi of Memnon ( upto half an hour visit time)
with in between travel time of 1 hour. ( Private tour with English Speaking Egyptologist Guide)
Departure Drop :
Later get dropped to Railway station to board your train.
Overnight : Semi-Sleeper Train
---
Day 7
Arrival in Cairo + Cairo City Tour with Khan-el-Khalili Market
Today is the day to visit key sights of Central Cairo Area, a happening day witnessing thousands year old mummies of Great Pharoahs and beautiful Islamic Cairo area and a different side of Egypt - its Coptic Cairo area :
* Visit NMEC Museum
* Visit Cairo Citadel along with a Mosque from Islamic Cairo Area.
* Visit one of the most Beautiful Church of Coptic Cairo area - Hanging Church.

Visit of Khan El Khalili ( Self Exploration ):
* Visit one of the oldest Souk of Arabian World;
* This is where your souvenior purchase will commense and probably end :).
* Walk around the endless streets of this Arabic Market.
Tour Duration 6.5 / 7 Hours ( Private tour with English Speaking Egyptologist Guide "Not for Khan-el-Khalili market")

Night Stay: Nine Pyramid Hotel
---
Day 8
Drop to Airport
Get dropped to Cairo Airport to board your flight to India. Fly to India with an amazing memories of Egypt.
Pricing
Price of this group tour is dependent on the number of travelers traveling on a particular date. More travelers on a particular date means lesser price for all travelers.
No. of travelers
Price (INR)
More than 0 travelers
89,900.00
---
Confirmation date:
60 days before departure
Policies
Know before you book
Please note that this is intended to be a backpacking adventure trip. The accommodations included in standard option are shared ones, which will allow you to meet new people and make travel friends. If you're looking for private rooms, it can be arranged at additional cost.

White desert camping is an adventure camping deep in the desert. There are no permanent camps or toilets there.

Checkin and Checkout time are standard as per hotel timings - we will not be having any role in extending the time. We only can request the same and ultimatley it will be on Hotel Discretion.

Vehicle is Privately booked only for you for the duration of tour as mentinoed in the itinerary ( unless specified otherwise in the itnerary itself) and will leave post tour completion on daily basis.

Tours and transfers are end to end as specidied in the itinerary.

Guides in Edfu/Kom Ombo are shared with other travellers - as part of Cruise itinerary.

Abu Simbel is a set time bound standard tour with limited time to be spend in temple area. As tour is convoyed, vehicle movement times are restricted and sticky based on tourism authority permissions.

Cruise's serve vegetarian meals as well upon request - but meals served are always Egyptian Vegetarian meals.


We place the request for bed type in the hotel, though hotel reserves the right for the bed type provided.
Payment Policy
At The Time Of Booking: 5000 Rs Per Person
45 Days Before Departure: 50% Of Total Package Amount
30 Days Before Departure: 100% Of Total Package Amount
Cancellation Policy
Flight Cancellation Policy:

As Per Airline Cancellation Policy

Visa Cancellation Policy:

Non-Refundable After The Start Of Visa Application Process

Land Package Cancellation Policy:

Between Day for booking - 46 days before Departure : INR 500 Per Person
Between 30 - 45 Days Before Departure: 5000 Rs Per Person
Between 15 - 29 Days Before Departure: 25% Of Total Package Amount
Between 7 - 14 Days Before Departure: 50% Of Total Package Amount
6 days before departure: No refund (Though, we can always postpone with associated charges basis discussion - as the amount would already have processed to all the end vendors from our side)

In case of Non-Refundable Accommodation agreed, Cancellation charges will be additional as per booked accommodation amount over and above mentioned charges.
Important Terms And Conditions
COVID-19 NOTICE : The destination you will be travelling to might have some restrictions in place. Kindly read the guidelines shared by the Governments carefully and book your travel accordingly. If there are any changes in guideline after booking, we can't guarantee you refunds for the booking.
5% TCS on Foreign Travel: Starting from 1st Oct 2020, Indian government has started collecting Advance tax in form of TCS on all Foreign travel packages. We would be charging 5% TCS on the total package amount and deposit it with income tax department against your PAN number. This would be refunded / adjusted in your total tax liability in the respective financial year. https://www.livemint.com/money/personal-finance/5-tax-on-foreign-tour-investments-and-study-abroad-from-oct-1-details-here-11601542142962.html
Please note that these are live prices and no bookings have been made yet. Final price and availability can only be confirmed at the time of booking.
The outline itineraries given are a statement of our intent. Local weather conditions, events, festivals, political and security problems, or a host of other uncontrollable factors could force a change in the itinerary.
For Visa- It is your responsibility to provide the documents required by embassy / high commission for your visa application. Grant of the visa is at the sole discretion of the respective embassy / high commission. We have no role in grant of any visa. We only facilitate the visa application, on a best effort basis, as per the requirements laid down by the embassy / high commission. Travel LYKKE will not be responsible for any visa rejections / delay, and all cancellation policies would still stand as they are.
Please reconfirm your flight timings with the airline company 72 hours before departure, for any changes in the flight schedule.
Special requests to hotels e.g. bed type, interconnecting rooms, adjacent rooms, early check in, late check out etc. are subject to availability at the time of check in and is at sole discretion of hotel management, and the cost for the same is to be borne by the customer.
Any significant changes in foreign exchange rates or government taxes may lead revision in prices until the time of last installment payment.
For more detailed Terms of Service, please refer to https://www.lykke.travel/terms-and-conditions. Your decision to make the first payment explicitly implies that you are in agreement with the terms and conditions provided on the above link.